IE BUMPER
Security Awareness Training
The Information Security Office at Salt Lake Community College has developed training for all SLCC employees on how to identify and deal with PHISHing emails in an effective way. SLCC has established a Security Education Platform where you can go for this additional training.

This training can be accessed through the MySLCC account by following these steps;
1) Log into your MySLCC account. Once logged in, click on the Employee tab at the top of the page.

2) Scroll down to the Employee Training section and click on Security Awareness Training.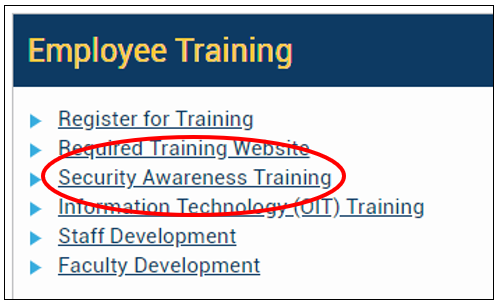 3) This will bring up the Security Education Platform.
For more indepth information follow this link: https://slcc.service-now.com/help/kb_view.do?sysparm_article=KB0011198
---
We are continuing OIT Training Classes via Webex through the Summer
(check back each semester)
| | | | |
| --- | --- | --- | --- |
| Registration Code | Title | Date | Session Time |
| I306 | Office 365 Teams | 6/1/2020 | 1:30pm-3:30pm |
| I302 | Office OneDrive | 6/2/2020 | 9:30am-11:30am |
| IE08 | Excel 1 | 6/2/2020 | 930a-1130a |
| ISP2 | SharePoint Basics | 6/3/2020 | 1:30pm-3:30pm |
| IW00 | Webex | 6/3/2020 | 930a-noon |
| IAC1 | AllAccess-Citrix Workspace | 6/4/2020 | 10:00am-11:00am |
| IB10 | Banner Basics | 6/4/2020 | 930a-1130a |
| ION2 | OneNote for Meetings | 6/5/2020 | 9:30am-11:30am |
| I307 | Office 365 Groups | 6/8/2020 | 1:30pm-3:30pm |
| IW00 | Webex | 6/8/2020 | 130p-4p |
| IC02 | Cisco Jabber for Phone & Chat | 6/9/2020 | 1:30pm-3:30pm |
| ISP1 | SharePoint Administration | 6/10/2020 | 9:30am-11:30am |
| IP06 | PowerPoint | 6/10/2020 | 130p-330p |
| IAC1 | AllAccess-Citrix Workspace | 6/11/2020 | 10:00am-11:00am |
| IW06 | Word Level 2 | 6/11/2020 | 1:30pm-3:30pm |
| IB11 | Banner Budget | 6/11/2020 | 930a-1130a |
| IN02 | NEIT | 6/15/2020 | 130p-330p |
| IG03 | Google Tools: Docs, Sheets, Slides | 6/16/2020 | 1:30pm-3:30pm |
| IE05 | Excel 2a | 6/16/2020 | 930a-1130a |
| IW07 | Word 1 | 6/17/2020 | 130p-330p |
| IAC1 | AllAccess-Citrix Workspace | 6/18/2020 | 10:00am-11:00am |
| IW00 | Webex | 6/18/2020 | 930a-noon |
| I305 | Office 365 Apps | 6/22/2020 | 1:30pm-3:30pm |
| IA01 | Adobe Acrobat Basics | 6/23/2020 | 9:30am-11:30am |
| IE06 | Excel 2b | 6/23/2020 | 930a-1130a |
| IW00 | Webex | 6/26/2020 | 930a-noon |
| IW08 | Word Academic/Accessible Docs | 6/30/2020 | 1:30pm-3:30pm |
| IE07 | Excel 3 | 6/30/2020 | 930a-1130a |
| I306 | Office 365 Teams | 7/1/2020 | 9:30am-11:30am |
| IE08 | Excel 1 | 7/1/2020 | 130p-330p |
| IW00 | Webex | 7/2/2020 | 930a-noon |
| ION2 | OneNote for Meetings | 7/6/2020 | 1:30pm-3:30pm |
| IB10 | Banner Basics | 7/6/2020 | 130p-330p |
| ISP2 | SharePoint Basics | 7/7/2020 | 1:30pm-3:30pm |
| IP06 | PowerPoint | 7/7/2020 | 930a-1130a |
| I302 | Office OneDrive | 7/8/2020 | 1:30pm-3:30pm |
| IE05 | Excel 2a | 7/8/2020 | 130p-330p |
| IC02 | Cisco Jabber for Phone & Chat | 7/9/2020 | 9:30am-11:30am |
| IW07 | Word 1 | 7/9/2020 | 930a-1130a |
| I307 | Office 365 Groups | 7/13/2020 | 9:30am-11:30am |
| IB11 | Banner Budget | 7/13/2020 | 130p-330p |
| IO11 | Outlook 365 | 7/14/2020 | 9:30am-11:30am |
| IW00 | Webex | 7/14/2020 | 930a-noon |
| ISP1 | SharePoint Administration | 7/15/2020 | 1:30pm-3:30pm |
| IE06 | Excel 2b | 7/15/2020 | 130p-330p |
| I305 | Office 365 Apps | 7/16/2020 | 9:30am-11:30am |
| IN02 | NEIT | 7/16/2020 | 930a-1130a |
| IW00 | Webex | 7/20/2020 | 130p-4p |
| IE07 | Excel 3 | 7/22/2020 | 130p-330p |
| IW06 | Word Level 2 | 7/27/2020 | 1:30pm-3:30pm |
| IA01 | Adobe Acrobat Basics | 7/28/2020 | 9:30am-11:30am |
| IO11 | Outlook 365 | 8/4/2020 | 1:30pm-3:30pm |
| IB10 | Banner Basics | 8/4/2020 | 130p-330p |
| I302 | Office OneDrive | 8/5/2020 | 9:30am-11:30am |
| IW00 | Webex | 8/5/2020 | 130p-4p |
| I306 | Office 365 Teams | 8/6/2020 | 9:30am-11:30am |
| IE08 | Excel 1 | 8/6/2020 | 930a-1130a |
| IP06 | PowerPoint | 8/10/2020 | 130p-330p |
| ISP1 | SharePoint Administration | 8/11/2020 | 9:30am-11:30am |
| IB11 | Banner Budget | 8/11/2020 | 130p-330p |
| IG03 | Google Tools: Docs, Sheets, Slides | 8/12/2020 | 1:30pm-3:30pm |
| IW07 | Word 1 | 8/12/2020 | 930a-1130a |
| IW08 | Word Academic/Accessible Docs | 8/13/2020 | 9:30am-11:30am |
| IE05 | Excel 2a | 8/13/2020 | 930a-1130a |
| IW00 | Webex | 8/14/2020 | 930a-noon |
| IN02 | NEIT | 8/17/2020 | 130p-330p |
| IW00 | Webex | 8/18/2020 | 930a-noon |
| IW00 | Webex | 8/19/2020 | 130p-4p |
| IE06 | Excel 2b | 8/20/2020 | 930a-1130a |
(Click the training name below to see the training description.)
Training We Offer
Banner

Word 365

Level 2

Academic Documents

Excel 365

OneNote for Meetings

PowerPoint 365

Level 1

Level 2: Presenter

CiscoWebEx

Office 365 Groups

Office 365: SharePoint Admin

Office 365 Teams App

Office 365 Apps (Delve, Sway and Forms)

Google Tools & Drive
***Also, for all Newly Hired Staff:***
_____________________________________________________________
Registration Instructions
How to Register Online
How To request a private training event for your group on certain topics, please visit this link and complete the request form: Request a Custom Training
Contact Us:
Tami.Anderson@slcc.edu; (801) 957-3944
Judy.Sylvester@slcc.edu; (801) 957-4560

TB121 Taylorsville Redwood Campus