Follow these instructions to log into an application that is protected by DUO Two-Factor Authentication (2FA) using the DUO Mobile Application. There are two separate processes outlined here.
You will begin either process by enter your username and password as normal for an application that is protected by DUO 2FA. After you click submit you will be presented with an additional step to confirm your identity.
For either process, if you check the "Remember me for 3 days" checkbox, you will only have to go through this additional step once every 3 days on the same computer, using the same browser. If you switch to a different computer or start using a different browser, you will need to go through this process again.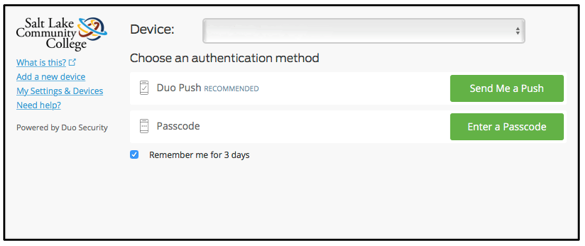 NOTE! If you have multiple devices registered with DUO, you'll be able to choose your device from the drop-down screen.
You have two ways to authenticate to the system. PUSH or PASSCODE.
SEND ME A PUSH
If you have the DUO app installed on your mobile device, you can have the system send you a 'push' notification. This is the preferred and most secure method. When you click SEND ME A PUSH, the system will send a notification to your mobile device like the following.

When you open the DUO application on your mobile device, you will see a screen like the following.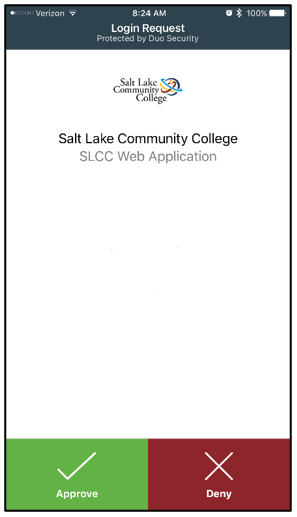 When you tap "Approve", the application will send a response to our system and you will automatically log you into the application. Tap "Deny" if you ever receive a push that you did not initiate and contact the Help Desk immediately at 801-957-5555 or via Email at HelpDesk@slcc.edu
You are done.
ENTER A PASSCODE
If you are in a place with poor internet connection, or don't want to use your phone's cell data, you can use a passcode to log in.
If you click the ENTER A PASSCODE, you'll have a box where you can enter the passcode.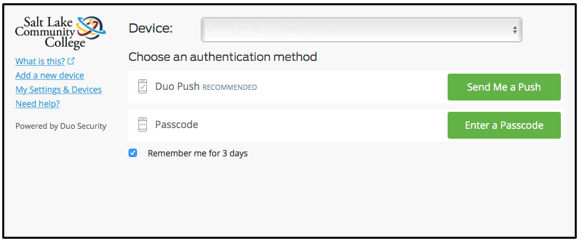 Open the DUO Mobile app on your mobile device, click the account for Salt Lake Community College and your device will generate a six-digit number similar to the following screen.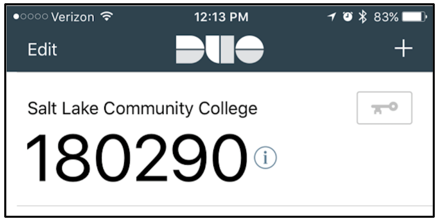 Type the six-digit code displayed on your device into the box on the login screen, click "Log in" and you will then be logged in to the application.
If you have any comments or suggestions, please provide them in the Feedback section below.
If you have any questions or issues, you can contact Technical Support:
Telephone: 801-957-5555
Email: helpdesk@slcc.edu