Your SLCC WebEx video conferencing account will be unavailable after June 30, 2021. By that time, you will need to have migrated to one of the other video conferencing hosting tools, Zoom or Microsoft Teams. If you wish to keep old WebEx meeting recordings for archival purposes of your class recordings for perpetual use, whether you have used the WebEx desktop app, WebEx in Canvas, or on the regular slcc.webex.com site, it is easy to download your recordings and save them for storing and sharing on other platforms.
To access your WebEx recordings
Login To WebEx
There are two possible options depending on where you scheduled your meeting WebEx or Canvas. You may want to go through both steps 1. and 2. and make sure you see you full compliment of recordings.
1. If you scheduled your meetings from the WebEx desktop app, the web site or from the Outlook app, follow these steps:
Go to slcc.webex.com.

Sign into your account.
OR
2. If you scheduled your meetings through Canvas, you would need to access them through Canvas but following these steps:
Go to slcc.instructure.com.

Sign into your account.

Select the WebEx link on the left menu in one of your courses.
Click on Account Settings in the top-right of the WebEx settings, next to your name.
Select Conferencing Accounts.
Click on Login to WebEx Meetings Site. (Note! This may flash a couple times as it logs you in).
This will log you into your WebEx account and cloud storage.
How to Manage your Recordings
Click on the Recordings link in the left-hand menu.
Your My Recorded Meetings library in the WebEx cloud storage will list all recordings in order of date created. Notice there is a filter drop-down menu that should have All selected.
If you do not see the recordings from classes that you scheduled through Canvas, you may find them stored with Canvas.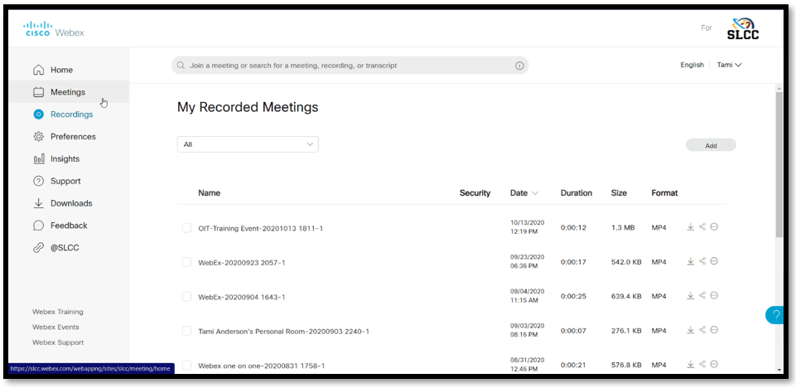 Steps to download the recordings
You will need to click the Download icon beside each video recordings listed.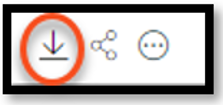 This will place the files in your Download folder in Windows. We recommend you move them from the Downloads folder to your Videos folder.
Formatting
If your recordings have saved as format types other than MP4 (MPEG Layer 4), you may need to convert them with the WebEx Format Converter before moving to the new location. As in the image below where the Training meeting type generated is the ARF format (Advanced Recording Format).
To change the format of a recording from ARF to MP4, you can download the Network Recording Player from Cisco. This application will allow you to save your recordings as an MP4 which works with most Media platforms and applications.
To download the application, click on the LINK or you can copy and paste the following URL address in your browser.
https://help.webex.com/en-us/hpmr9o/Install-the-Cisco-Webex-Network-Recording-Player-for-Advanced-Format-Files
Once you have downloaded and installed the Player, open the ARF file in the player and go to the File Tab and Convert Format.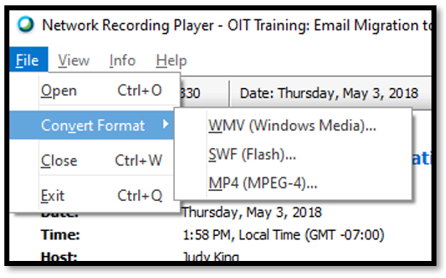 Once you have downloaded all WebEx Recordings from your WebEx account cloud storage to your PC (or even onto your OneDrive) you can decide to publish them in any of various storage and sharing locations RECOMMENDED for Faculty and Staff. Please see our Recommended Video Storage Locations Knowledge Base Article.
If you have any comments or suggestions, please provide them in the Feedback section below.
If you have any questions or issues, you can contact Technical Support:
Telephone: 801-957-5555
Email: helpdesk@slcc.edu