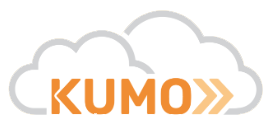 Kumo (which means both "cloud" and "spider" in Japanese) is software that allows access to your cloud storage accounts in one location when using SLCC shared computers like inside AllAccess or in SLCC computer labs. Once your files are saved in one the available cloud locations, the files are accessible via nearly any computer or handheld device with internet access and a web browser, reducing the need for multiple copies of your files or additional disk space on your computer or mobile device.
You can configure access to your cloud storage through the Kumo Cloud Storage Integration portal. The SLCC Kumo Cloud Storage Portal lets you to choose from among locations in the cloud to store your files (currently OneDrive and Google Drive are supported by SLCC).
SET YOUR PREFERENCES
The first time you login to a computer with the KUMO client installed, you will be prompted to configure it.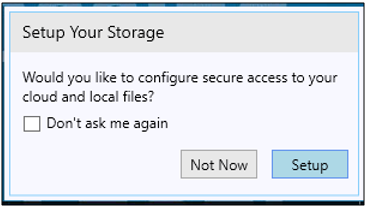 Once you click on the prompt, you will be taken to the SLCC Kumo Cloud Storage Portal where you can configure Kumo for future use. The storage options you choose will be remembered the next time you log in to AllAccess or use any SLCC lab computer.
Click Log In.
NOTE! If prompted, log in with your e-mail and MySLCC password:
Students: username@bruinmail.slcc.edu
Staff/Faculty: username@slcc.edu
Once you are logged in, select Set Preferences at the top, right of the portal page. This will take you to the preferences page where you can select your preferred cloud and network storage locations.
You can add the storage option you want by clicking the down arrow next to the desired service.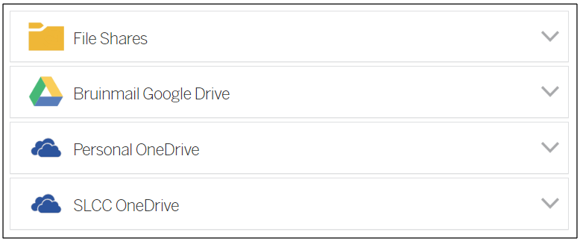 For cloud drives such as Google Drive and OneDrive, you will need to authorize access to these sites.

GOOGLE DRIVE SETUP
For your college Google Drive, you will provide your Bruinmail email address and then your MySLCC credentials. When prompted, click 'allow' for Kumo to access your files.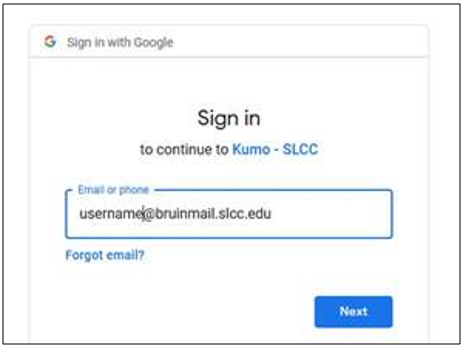 ONEDRIVE SETUP
For your college OneDrive, use the following user information:
Students: username@bruinmail.slcc.edu
Staff/Faculty: username@slcc.edu
The password will be the same password you use to access your MySLCC account. This will need to be done before the fire share can be authorized.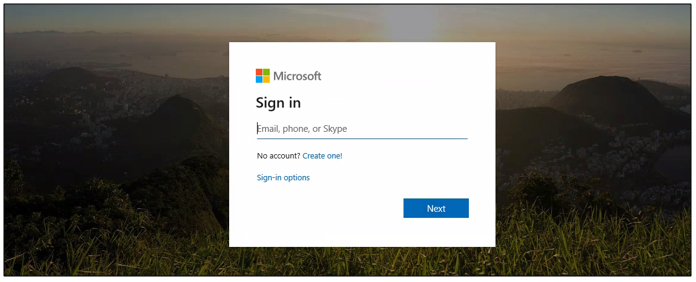 Once you have completed these steps, you will see a green check by each location you have authorized.

FILE SHARES SETUP
If you have a file share that isn't automatically mapped for you, you can enter the network path by clicking the down arrow and then the "+" symbol and manually entering the path. Kumo will remember the path and map it for the next time you log into AllAccess or an SLCC lab computer. The path can be entered in one of the tow following formats:
UNC path for file shares: \\server\folder
URL for SharePoint or WebDV sites: https://server/folder

NOTE! If you do not know the network path for your department or class SharePoint site, you can reach out to your departments Administrative Assistance, the Help Desk or your instructor for additional information.
You can also suggest a file share not listed by clicking the Suggest a Kumo service which will open your default e-mail application so that you can provide the Help Desk with the details of your suggestion(s).
To reverse a previously authorized storage option, select the drive option and then click Deauthorize.
USING KUMO MAPPED DRIVES
Once you have completed this process through the Kumo preferences page, you will be able to see the different drive options listed under "this PC" inside the AllAccess desktop or lab computer.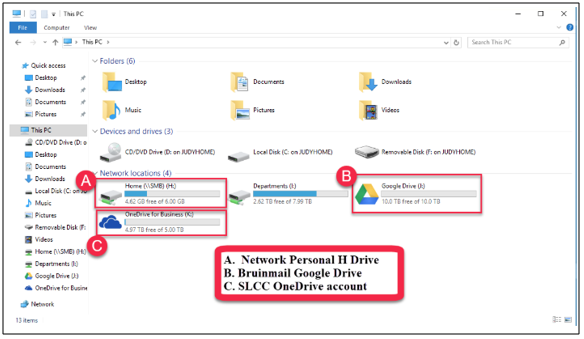 UPDATING YOUR PREFERENCES
Once you have set your Kumo preferences, you can update them simply by navigating to the SLCC Kumo Cloud Storage Portal and logging in. From the login page, you will be able to change a network path or deauthorize/authorize a cloud drive as described above.