Apple Security Updates
Summary:
The college pushes updates to both on-site and off-site Mac computers. You can initiate these updates at your convenience prior to the patch deadline on Sunday 5.17.2020 at 12:01 am. In Applications, you can open SLCC Self Service and run any listed updates. The updates will ask daily to install but can be deferred until the deadline:
Apple Update for all Macs Not running 10.15.4
Microsoft Office 365 16.37
Zoom.us 5.0.2
Google Chrome 1.0.4044.138
Firefox 76.0.1
To be more user-friendly, we changed the way of enforcement of Microsoft updates on Macs. Closed Microsoft Office Applications will auto update in the background without prompting or action. Open Microsoft Office Applications will receive a daily request to quit and update, two days before you will receive notice of the deadline. Once closed, Microsoft Office Applications will auto-update. On the 7th day you will receive a 60-minute countdown to save, quit and update before being forced to quit and update.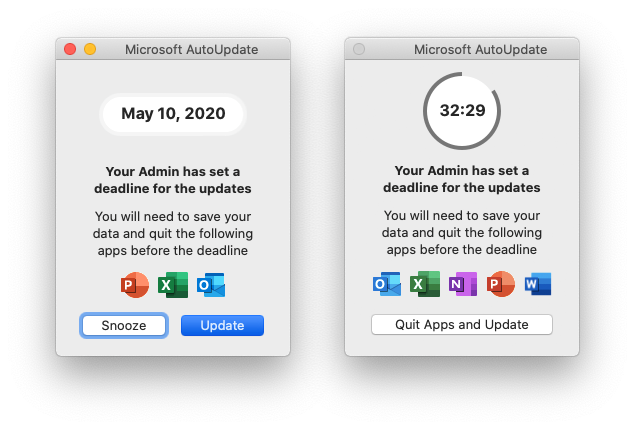 If you do not install the other updates prior to Sunday 5.17.2020, your computer will install the updates the next time it is turned on, anywhere with internet. A warning message that your computer will install updates in 15 minutes will appear and then Quit Apps without saving files and restart the computer if required.
Mac Lab Computers will attempt to install on log off and start up for this week and will be forced after Sunday.
If you have not installed the JAMF client please follow these instructions.