Microsoft has released an update for a recently discovered vulnerability in Internet Explorer (CVE-2018-8653) .
OIT has scheduled the update for SLCC computers for TODAY (Thursday) December 20th at 10 pm. The update normally requires a reboot after completion. Similarly to how our managed updates are normally performed, you will have the option to manually install the updates yourself, or the next time your computer connects to the SLCC network after 10 pm, it will update and then require the reboot.
Considering some of you may be off campus for the holiday, there is a way you can manually run these updates yourself.
Windows 10:
Select the Start button, then select Settings > Update & Security > Windows Update , and then select Check ONLINE for updates from Microsoft Update.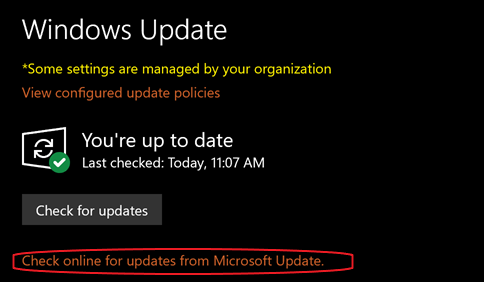 Windows 7:
Click the Start button at the bottom-left corner of the screen to open the Start menu.
Type "Windows Update" into the search field at the bottom of the menu, then press Enter on your keyboard.
Click the Check ONLINE for updates from Windows Update link.

Click each of the links under the Updates are available for your computer section at the center of the window. You should typically install the updates that are classified as "important," while "optional" updates can be installed based on your own preferences.