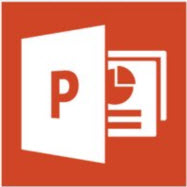 PowerPoint 2013 Level 1 training is designed for all SLCC Employees.
PowerPoint 2013 is the presentation program in the newest Microsoft Office suite that allows you to create amazing slide presentations that can integrate images, video, narration, charts, and more. Whether you're a novice or seasoned PowerPoint user, you will benefit from this training.
Prerequisites: None
Training Objectives:
What's new in PowerPoint2013.

For example, You're going to like the new Presenter View. Presenter View no longer requires multiple monitors. Now you can rehearse in Presenter View on a single monitor.

Getting around in PowerPoint.

Understanding the Ribbon and Quick Access Toolbar.

Slide, Text and Object basics.

Applying slide Transitions and Animating text and objects.

Applying Themes.

Tips and Tricks.
Please register in advance:
To Register Yourself for training use the Employee Training channel on the Employee tab of MyPage
or click here for registration instructions.
Questions?
Contact Hailey Richins or John Hunt (3960 or 4560).