The top portion of the form is General Information about the new employee- part or full time
Note: Information marked with a red line is required information

Please fill out the employee type information, again note that Information marked with a red line is required information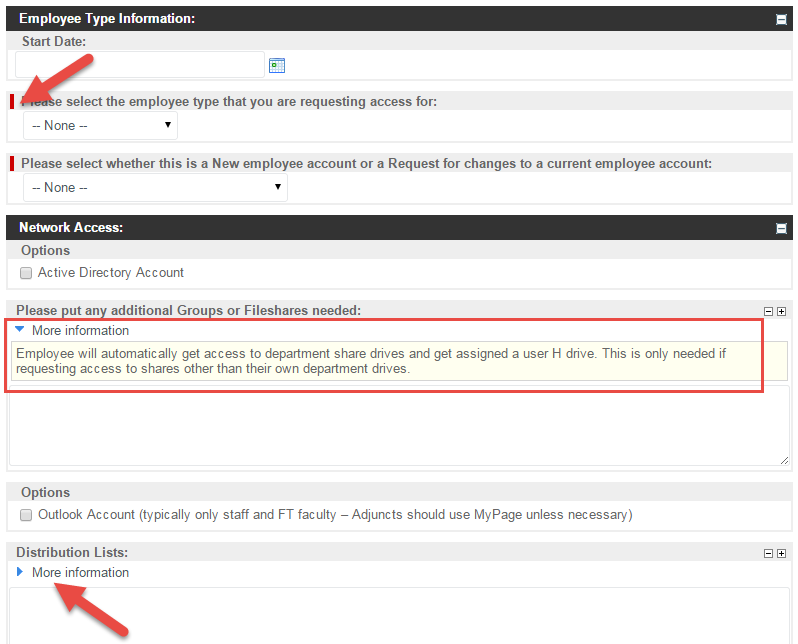 Some sections have a

listed below the section header. By clicking on the arrow or 'more info link', these give further explanation of what information is needed for that section.

In the Telecommunications section, more than likely your employee with need Xmedius fax and a voice mail set up. If they need the other options please select the others.
Good rule of thumb: If you don't know if the employee needs certain access, more than likely they don't.
BANNER ACCESS
If user needs access to financial data, please DO THE FOLLOWING:
Check the box;
Enter the Org or Indexes that are needed. If you do not know the Orgs, please contact the Business office at ext. 4084 to get the Orgs.
If you need additional Banner Access or need changes to your Banner Access, please DO THE FOLLOWING:
Click on this link, Request Banner Access Form (Click Here);
Instructions on filling out the Banner Access Form are found HERE.


Good rule of thumb: If you don't know what NOLIJ or Degree Works access is, more than likely the employee won't need access to either.

Don't forget to click Order now in the right hand corner of the top of the form after completion. This completes your order.