What is AllAccess?
All Access is a virtual computing environment that offers free service for SLCC students, faculty, and staff that allows them to access several college licensed applications from any web-enabled device (PC, Mac, smart phone, tablet, etc.). This service works both on and off campus.
AllAccess is versatile enough where you can start work at the college, disconnect your session, and then reconnect and continue working from another device at home or other location where a connection to the internet exists. The great thing is that your device doesn't have to be new or have a ton of computing power to run these applications as AllAccess runs them in a cloud computing environment on the SLCC servers, so SLCC servers do most of the heaving lifting.
Download the Citrix Workspace app to your home computer to work outside of the browser with the desktop client. QuickStart Guide
Facts concerning the AllAccess College system:
• The SLCC Desktop in AllAccess has all standard Office Suite software plus Chem Basic, Chem Sketch, Audacity, EMS, R i386, R Studio, Webex and more – over 150 total.
• The "CAD" and "Adobe" desktops have all the Autodesk and Adobe software such as AutoCAD, REVIT and Photoshop.
• The "CAD" and "Adobe" desktops in Allaccess have dedicated GPUs and processors equal to or better than many high-end Graphics workstations.
• You should only use the Citrix "lite" client as a last resort (Call OIT if you need help getting the Workspace app working properly).
• Accessing your network files (H: and I: drives) via AllAccess is at local network speeds and can be THOUSANDS of times faster than using the VPN (AND you don't have to figure out how to map them yourself either!)
• You can connect your OneDrive and Google drive to AllAccess using KUMO and have Terabytes of available storage.
All Access includes applications include (but are not limited to):
Office 2016/365 suites (Word/Excel/PowerPoint/Access/OneNote/Publisher)
Adobe CC
MyMathLab
MyITLab
Autodesk Education Master Suite 2020 (AutoCad / Inventor/Revit/3D Studio Max Design/Civil 3D)
Gimp (image editing)
NetBeans (java development)
Library Databases
Kindle Cloud
And many more
Access Instructions

Follow these steps to securely access the AllAccess environment:
Navigate to allaccess.slcc.edu in your web browser.
Log in with your MySLCC username and password.
If you are a first-time visitor to this website, you will need to follow these installation steps to install the Citrix Receiver.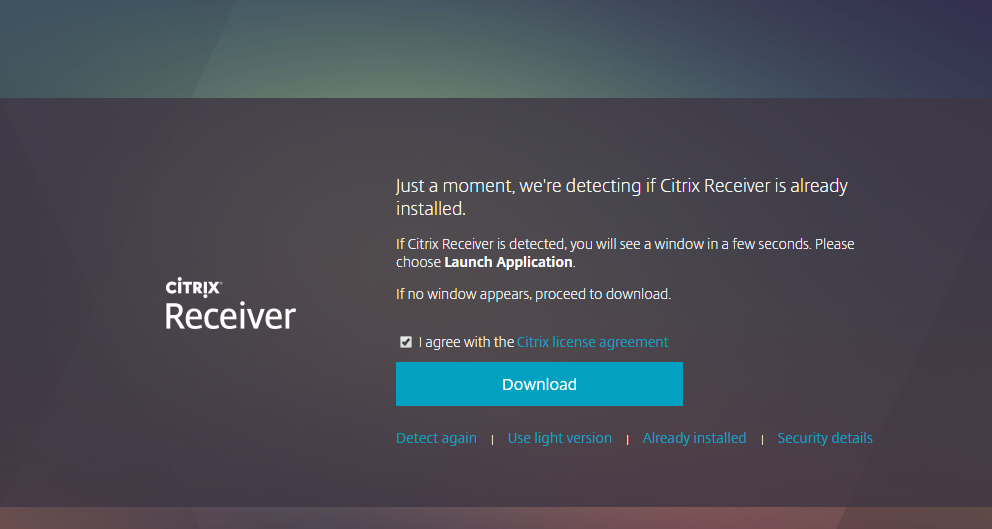 Do not Use the Light Version as it will not allow you to save your files to your roaming SLCC profile and network drives.
Citrix Receiver is software that establishes a secure connection between two devices. In this case, a secure connection between your device and the SLCC servers.
If this is the first time visiting this website, you will be presented with the option to detect Citrix Receiver. Click this option. If your device does not have the Citrix Receiver, you will need to click Download. Once the executable file finishes downloading, click the file icon to run the installation.


If you have downloaded the Citrix Client to your computer, you can click Already Installed.


Once the client is detected or you have installed it, a screen will ask you to add an account with the following information:
Network Domain Account: allaccess.slcc.edu
Student Login with prefix: STUDENTI\Username
Staff Login with prefix: SLCCI\Username
Password: your normal MySLCC password
When you have securely logged into the Citrix Workspace environment, you can use the SLCC desktop with normal office applications by selecting it (clicking the monitor icon). You may choose to use one of the specialty desktops loaded with Auto Desk apps or Math or Chemistry applications.

You may need to change your preferences when working in the virtual desktop of your choice. To do so follow these steps that are provided in the SLCC Desktop Help. It is available on each of the virtual desktops.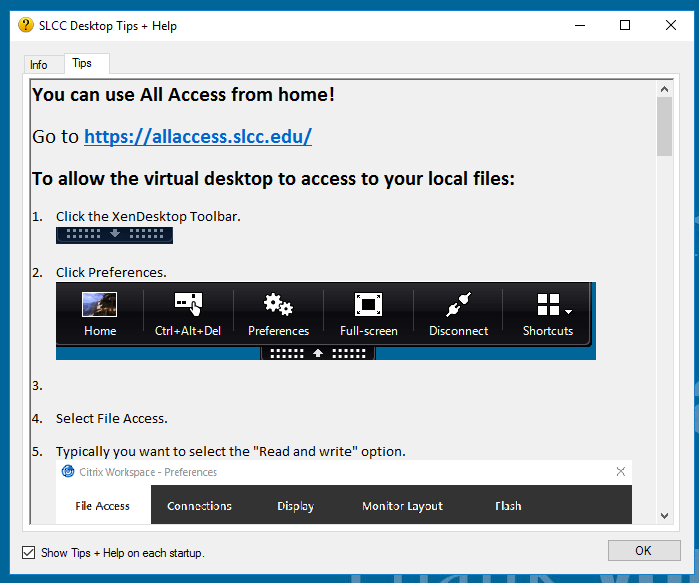 When you have finished using the All Access virtual desktops, you can Disconnect from the top navigation bar. Your virtual desktop will continue until you reconnect or it times out (12-24 hours).
Install and Troubleshoot the Citrix Client on Windows
Install and Troubleshoot the Citrix Client on Mac OS X
* Check back often as new applications will be made available on a regular basis.
** Some applications require registration to specific courses for them to be visible once you log in to AllAccess (e.g. AutoCad).
Other Training Videos Online
Visit the Getting the Most out of SLCCs All Access System online training videos on YouTube and learn how to:
Running Apps and Reduce Login Times
Opening and Saving Files in Personal and Cloud Storage
If you have any comments or suggestions, please provide them in the Feedback section below.
If you have any questions or issues, you can contact Technical Support:
Operating Hours
Monday - Thursday 7:00 am to 8:00 pm
Friday 7:00 am to 6:00 pm
(closed weekends and Holidays).
Telephone: 801-957-5555
Email: helpdesk@slcc.edu