Log into MySLCC
Select the Employee tab
Go to the Employee Training section, select Register for Training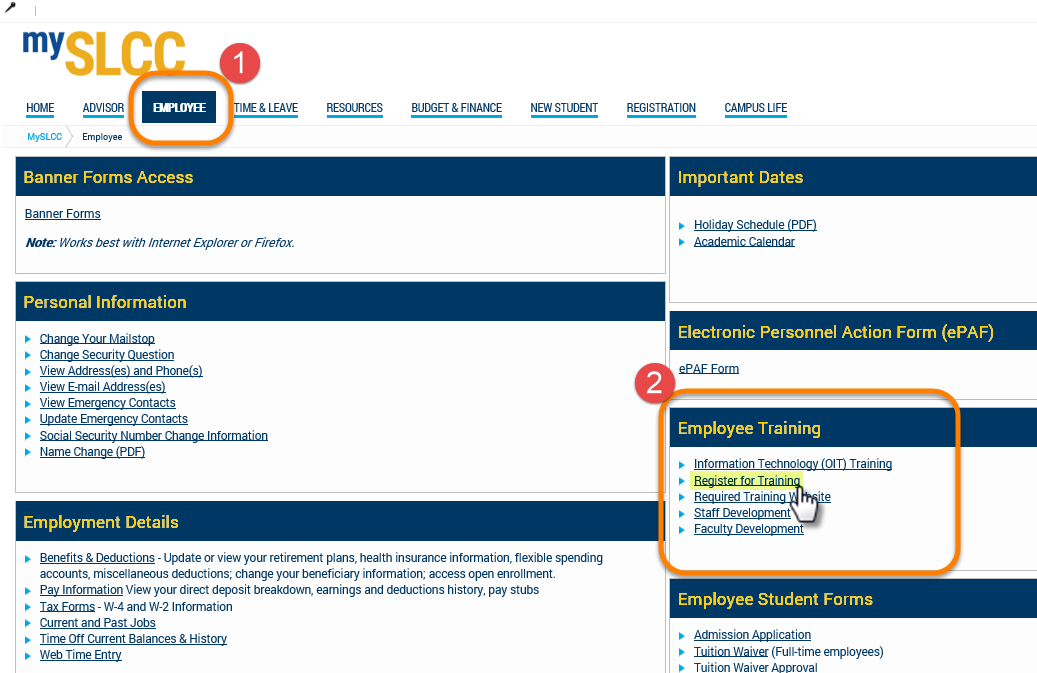 Training Registration Page
The Training Registration page is divided into three sections; Training Registration, Required Training, and Employee Training Transcript. They are explained below: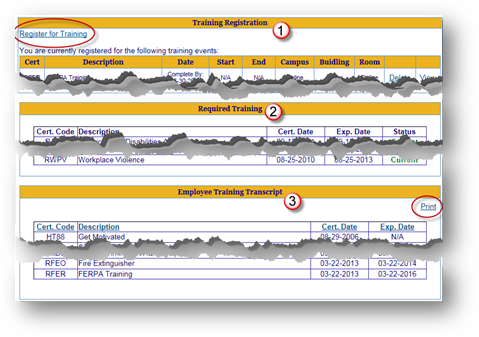 Training Registration:
Click the Register for Training link to begin the registration process.
Also lists the training you are currently registered to attend.
Required Training:
Lists all required training and whether or not you're current.
Employee Training Transcript:
Lists the training you have completed along with the date taken (Cert. Date) and expiration date (Exp. Date) if applicable.
Note the Print link that allows you to print a hard copy of your transcript.
Register for Training
Clicking on the Register for Training link opens the Training Registration Search page.

Click on the Training/Department field.
Select the Training or Department. Note: For OIT Training, select Information Technology.

Now click on the Course field.
From the drop down of available training, select the course of interest.
Click on the Search button to begin a search for available training sessions.

A list of available training sessions opens at the bottom of the Training Registration Search page.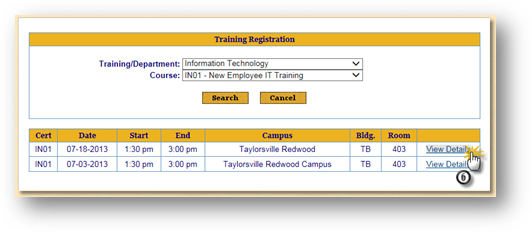 Click the View Details link associated with the desired training course. This will open the Training Course Details page.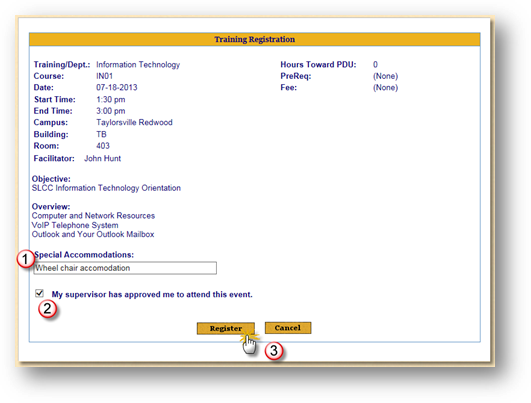 To register for this training:
Enter any special needs or requirements in the Special Accommodations field.
Check the My supervisor has approved me to attend this event box indicating supervisor approval if required. Note: The check box is not displayed if supervisor approval is not required.
Click the Register button to complete registration.
The Employee Training reopens with your new course listed in the Training Registration section. You may also receive an email confirming your registration.
Note: If for some reason you're unable to attend, you can delete your registration by going to the Employee Registration page and clicking the Delete link associated with the course registration to be deleted.
If you need assistance with registration, please contact Judy.King@slcc.eduor Tami.Anderson@slcc.edu.