Follow these steps to begin the process to download and install Citrix Receiver on any device running the MacOS operating system:
**For a video of the below instructions go to the bottom of this page
Citrix Receiver - MacOS (Online Version)
1. Open Safari and got to https://AllAccess.slcc.edu
2. Login with your normal SLCC username and password (MySLCC)
3. You will then be prompted to download and install the client.

4. After downloading the "Citrix online plug-in (web).dmg" double-click to open it

5. Select to install the Online-Plugin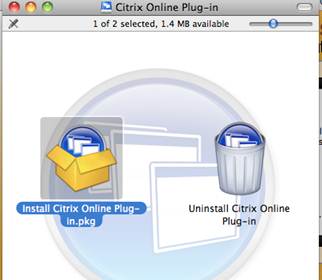 6. Once finished with the installation close all the installation windows and select the "Continue" button on the https://AllAcess.slcc.edu web site.
7. You will now see all the applications you have access to and can launch whichever is desired.
Citrix Receiver for MAC (Apple App store version - [Free])
This version allows you to select from the available applications and launch them directly from the dock without having to go to the AllAccess website.
To install the application:
1. Go to Apple Icon in the upper left of your Mac and click on "Apps Store"
2. In the search field on the top-right of your screen enter "Citrix Receiver" and download and install for Free with your Apple ID
To configure the application:
1. Under "Get Started" click on "Log On Now"
2. Enter in the Store URL https://allaccess.slcc.edu
3. Click OK (Connection will fail)
4. Go to Citrix Viewer menu top left and click "Preferences"...
5. Go to Stores tab, click "Allaccess"
6. Click the "Configure..." button
7. Change the settings to the following
a. Access Gateway: Enterprise
b. Gateway Address: https://allaccess.slcc.edu
c. Logon Type: Domain Only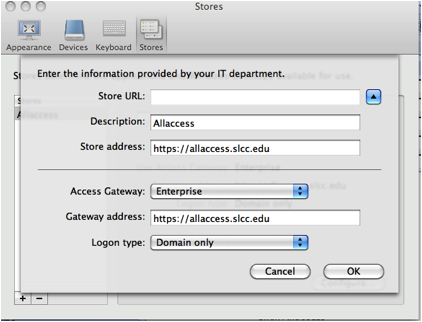 8. Now login with your username in the format:
a. Staff/Faculty: SLCCi\<USERNAME>
b. Students: Studenti\<USERNAME>
**if you add this login to your keychain when prompted you will automatically login to the system in the future
9. Select the applications you want as "Favorites" and click add (They will be listed under Home>Applications along the left side of the receiver window).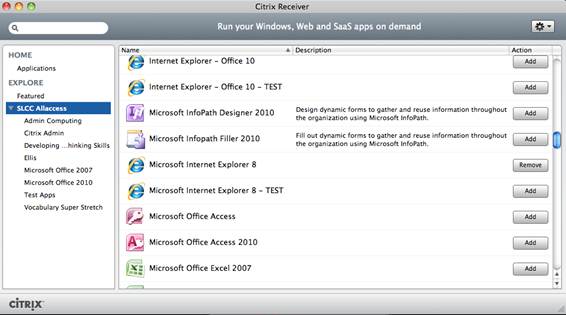 10. Move to the "Home" area along the left side of the Citrix Receiver App and you will see and launch the applications you've selected.
Training Video: Install and Troubleshoot the Citrix Client on Mac OS X
Install and Troubleshoot the Citrix Client on Mac OS X

If you have any comments or suggestions, please provide them in the Feedback section below.
If you have any questions or issues, you can contact Technical Support:
Telephone: 801-957-5555
Email: helpdesk@slcc.edu