IE BUMPER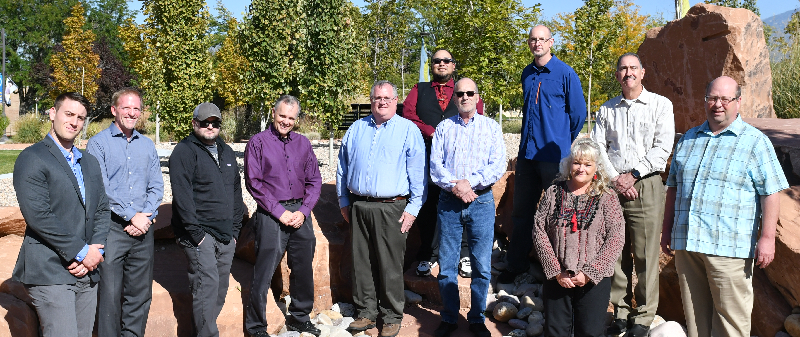 OIT Management Team
The OIT Management team works together to help direct the different IT departments to help support the goals of SLCC through appropriate use of technology.
Photo: Alex Radivoyevich, Kurt Shirkey, Brandon Johnson, Casey Moore, John Madsen, Gus Calder, Steven Palfreyman, Deb Mahre, Bill Zoumadakis, Jourdan McCall.
Not Pictured: Larry Larsen

Technical Support
The Technical Support Help Desk offers support for students, faculty and staff presented by phone calls, e-mails, voice messages, chats and walk-ins.
Photo: Gus Calder (Manager), Tim MIllar, Prax Vazquez, Jessaca Nebeker, Megan Grant, Jesse Wright

Academic Computing
The Academic Computing department has the responsibility of providing technical support to students, faculty, and staff in Computer Labs and Technology Centers at all campuses of the college. This team of 12 full-time and over 30 part-time employees has the charge to make sure that Open Labs and other instructional spaces are efficiently providing the necessary technology for learning at SLCC.
Photo: Travis Brian, Tina Waite, Robert Devins, Christian Orellana, Breylen Stallings, Steven Perry, John Kunkel, Christopher Steele, Steve Yates, Jameson Bawden, Katie Beattie, John Russo, Darrell Wood

Desktop Services
The Desktop Support group sets up and maintains desktop computer hardware, software, and associated peripherals for Faculty and Staff at SLCC. Technicians offer support at all Campus locations with secondary support for some lab environments.
Photo: Dan Brabbins, Jordan Stoddard, Rhonda Da Luz, Brent Ranke, Sandra Abbott, Matt White, Erich Gillespie, Mark Ewoldt, Jack White, James Foreman

Infrastructure Services
The Infrastructure Services department provides support for Computer Networking and Telecommunications services at the SLCC. Our team supports physical hardware and transmission media both wired and wireless used to interconnect all associated SLCC computing resources, telephone system and Internet Access. In addition Infrastructure Services supports various services such as Jabber Instant Messaging, Voicemail, Remote Network Access etc.
Photo: Michael Wade, Michelle Dye, Gabino Chacon, Peggy Farrell, Patrick Mounteer, Robin Howard, Steve Palfreyman, Misha Radojevich, James Wilkinson

Server Services
The Server Services department has the responsibility of providing technological solutions for the evolving services at SLCC reliant upon server technologies, as well as technical support for students, faculty, and staff as it involves server related technologies and services provided at all SLCC campuses. This team consists of 10 full-time employees who are efficiently maintaining the necessary server technologies for a large variety of services at SLCC.
Photo: Dave Smith, John Madsen, Mike Siebach, Matt Mason, Nick Tadehara, Michael Simnitt, Zach Pavelka, Jeff Staples, James Wilkinson

Information Security
The Information Security Office, within the Office of Information Technology (OIT), is to safeguard the College's information technology resources and data by ensuring confidentiality, integrity, and availability of the these resources and protect them from compromise, abuse, loss or damage caused intentionally or unintentionally. This assurance will allow the College to continue its mission critical operations of education, service, and administration.
Photo: Dana Champine, Bill Zoumadakis, James Chandler

Administrative Computing
Administrative Computing manages the software systems used by SLCC to perform day-to-day operations, solve problems, and plan for the future. Banner and MyPage are probably the most recognizable of the many systems we manage. Our services include installation, maintenance, and technical support of the administrative systems used by the college. Where appropriate we also modify these systems and build custom software. Administrative computing is divided into three areas Administrative Applications, Web Systems and Database Systems.
Photo: Geoffrey Kiguthi, Sam Kuhn, Jonathan Soto, Ken Scott, Gordon Johnson, Scott Pratt, Patrick Chaffos, Chuck Schoonover, Dave Allen, Brandon Johnson, Tikey Drossos, McKell Anderson, Nate Reynolds, Jourdan McCall, Zach Zitterkopf, Truc Tran, Larry Larsen

Classroom Technology Support

Web Systems

Media Services

Video Conferencing

OIT Training